BSIP Iconography Database Goes Live!
I am pleased to announce that on 1st January 2021 the BSIP Iconography Database went live!
The BSIP database focuses on the iconography of bowed string instruments and places the iconography at the forefront. The BSIP referencing system is suitable for academic use. It is now possible to reliably reference sources, specific images, and individual depictions of bows, instruments and musicians.
The database is Open Access and goes live with over 1000 sources already available. This is just the beginning, and there are more than 15500 further sources awaiting entry. This is my personal data set from over 6 years of research. By sharing these primary sources I hope to inspire you and others to join me, to establish a global corpus of bowed string instrument iconography for our shared benefit.

Itching to see some iconography? The database may accessed via the BSIP IRP (Insight Research Platform).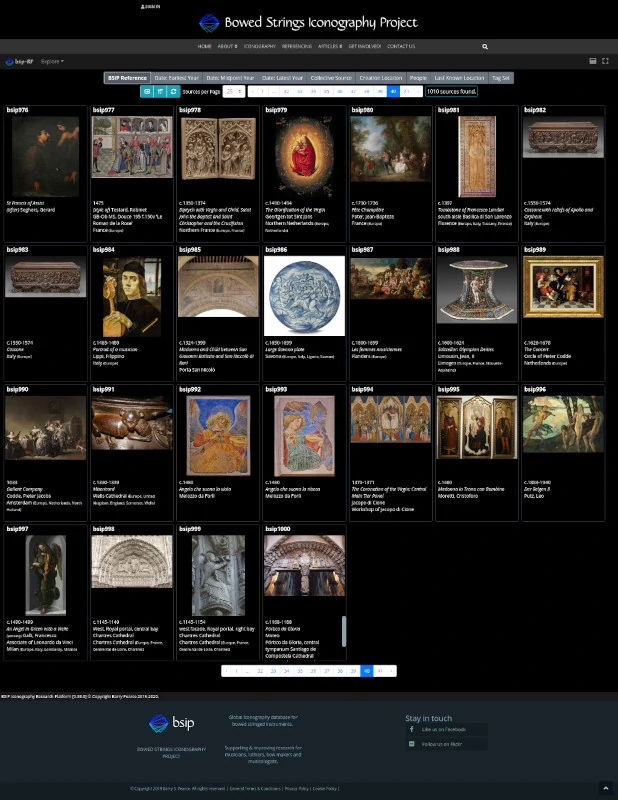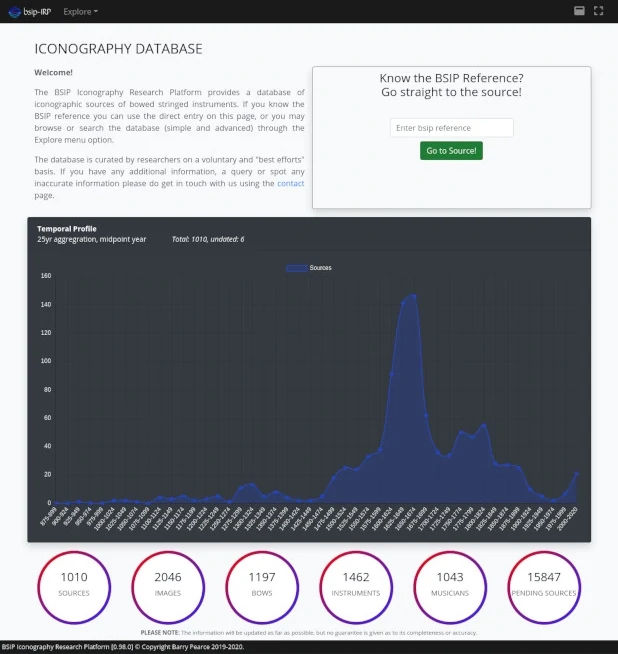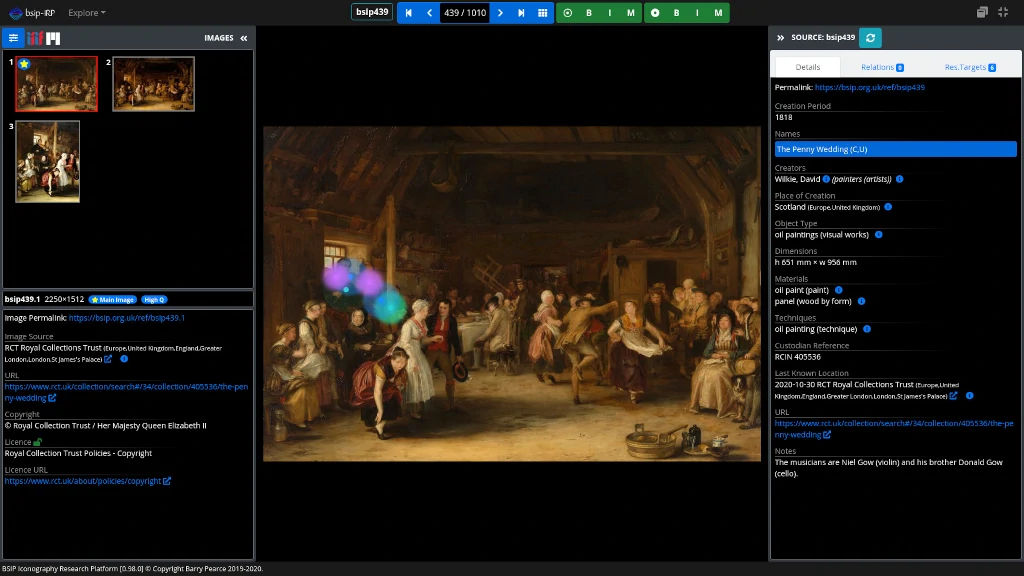 Do we really need yet another catalogue/database?
- In short: Yes!
Until now, there has been no database dedicated to bowed string instrument iconography. Information is widely dispersed, mostly as citations in books, articles and theses. A typical citation is a textual reference to the source. They are summaries of the metadata. Hopefully they contain enough information for the source to be found, but they are not a direct reference and suffer from ambiguity. If we wish to see the source we have to search for it ourselves, and this can be a bumpy journey where results are not guaranteed. As described in my article on Improving Musicology Research Methods some references are impossible to resolve. Existing catalogues & databases typically have the metadata as their primary concern, some providing images, others links which suffer link rot as the target websites change. Some catalogues provide a basic referencing system, which often suffers from being merely a reference to the textual metadata, leaving us back where we started.
The BSIP database & IRP (Insight Research Platform) is a tool for 21st century research and makes the source itself the primary concern. With a BSIP reference you are guaranteed to find the source object. The BSIP database supports cataloguing an artwork for which nothing is known and yet enables it to be reliably referenced. With multiple images, context images, support for gigapixel images, deep zooming, individual research target identification, visual research target locating with pins & pulses, tagging, extensive referencing, permalinks, and mobile device support, the BSIP Database & IRP goes beyond being a simple catalogue. It is setting a new standard.
Extensive Search & Browse Facilities
The BSIP IRP supports several methods to find sources. BSIP references can be navigated to directly using the reference permalinks, or entered in the dashboard to take you directly to a known source.
The Simple Search is powerful and provides date range, relationship and advanced textual searching, and the database can be browsed with filtering on collective sources, people, locations and tag sets. The results may ordered by BSIP reference, and dates.
Although most queries can be achieved through Simple Search and browse filtering, when you need a bit more power Advanced Search opens up individual fields. All locations in the database have longitude and latitude coordinates. One of the unique features of the IRP advanced search is the ability to filter creation locations and last known locations based on a geographical box by specifying a longitude, latitude along with the width and height of the box.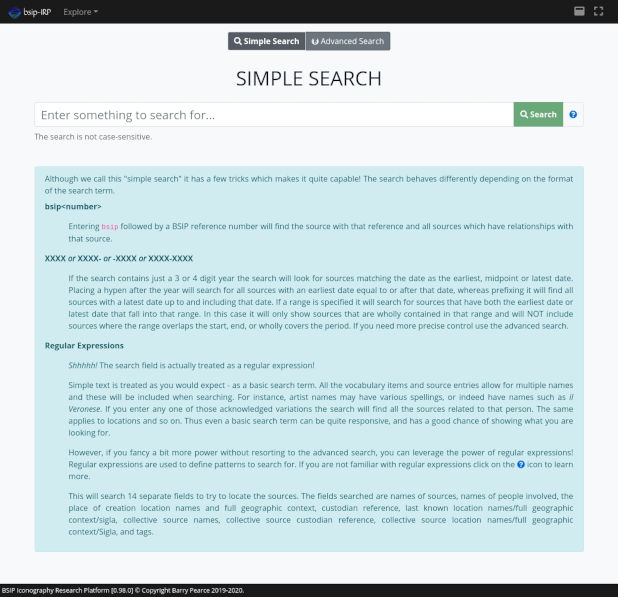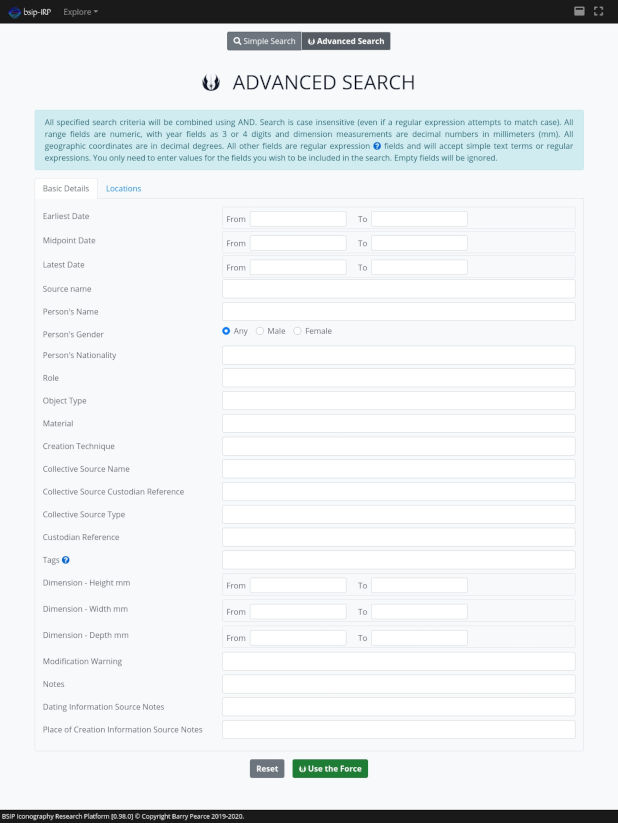 I hope you enjoy using the database & IRP!
Barry Pearce, 01.Jan.2021